Emergency iPhone Charging Port Repair as Low as $79.99
Serving Milwaukee, Waukesha, Washington, Walworth, Racine, Kenosha, & Ozaukee County
Your iPhone isn't charging or is charging slowly when you plug it into the wall. You've tried a new cord. You've tried a different outlet. You plugged it into your computer. Nothing makes a difference. But the battery does hold a charge once it's finally full. Call Smart Tech for the fastest and most convenient iPhone chargeport repair in Wisconsin.
iPhone Chargeport Repair On-the-Go
We fix phones fast. And we meet you wherever you are. Our technicians can show up and repair your chargeport while you're at your kid's soccer game, on your lunch break at work, or on campus before your class starts. We'll swoop in and fix your phone before your battery dies – so you don't get stranded with a dead phone.
We'll come to you.
How to Tell if Your Chargeport Needs Repair
Is there residue around the chargeport?
Do you have to hold the cord at an angle?
Are the pins in the port broken or twisted?
Does the cord wiggle when inserted?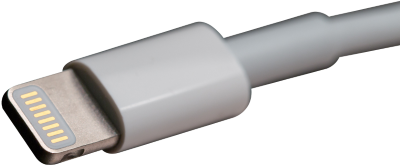 How not to Break your Chargeport
You can't always control when something is going to break, but you can do certain things to extend their service life. For iPhone chargeports, the best way to prevent damage is to be careful with how you insert and remove your charge cord.
The proper way to insert your charge cord is holding it by the hard plastic end nearest the chargeport. Removing the cord is similar, with one added gesture. Put your fingers on the side of the phone to stabilize your hand and pull straight out. This reduces the chances of your port being damaged in the process of charging the phone.