iPhone Repair in Whitefish Bay
America is addicted to their cell phones. We can't live without them. So when something goes wrong and they don't work, it's a sad day indeed. Fortunately, there's Smart Tech Mobile Phone Repair.
The iPhone below is a perfect example. The 6s had a growing spider web crack, as you can see in the photo on the left. On the right, it's back up and running with a new screen installed by Smart Tech.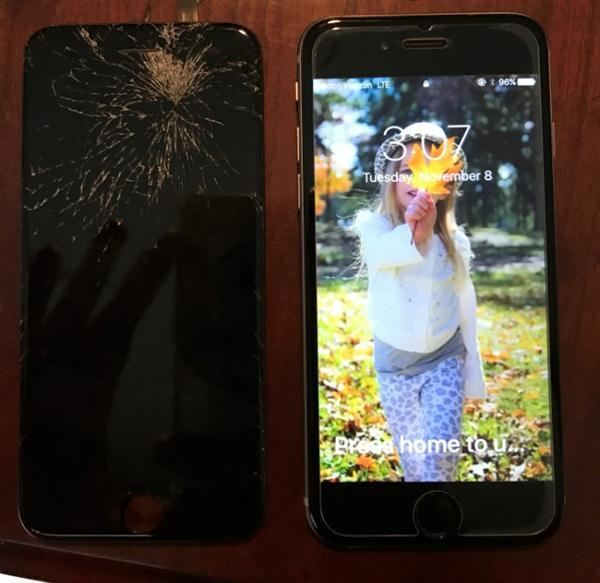 We replace cracked and shattered screens, Home buttons that have stopped working, batteries that won't recharge, speakers that have blown and even restore phones that have been dropped in water—and we do it better than anyone else.
Smart Tech Mobile Phone Repair services:
Stay Put! Smart Tech Phone Repair Technicians Come to You
Having to take your phone to an authorized Apple repair center is a hassle. You have to drive out there, leave off your phone, then drive back to get it. Wouldn't it be great if someone would come to you to fix your phone? Well, someone will: Smart Tech!
You can schedule an appointment for a Smart Tech repair technician to meet you wherever you are – at work, at the mall, at home. In most cases, we can be at your location in 20 minutes. We use only quality, OEM parts, and most repairs can be done in 30 minutes or less. So you won't be without your phone for long.
We Match Any Competitor's Price and Back Our Work with a 100% Satisfaction Guarantee
Think you've found someone who can repair your phone for less than Smart Tech? Let us know. We'll match their price. On top of that, we back our work with a 100% satisfaction guarantee. If you're not happy with the repair work, we'll refund your money.
Order your iPhone repairs to-go. Why? Because everything is better when you're doing it on your terms.