On-Site iPhone/iPad Battery Replacement in Milwaukee
iPhone Battery Replacement Starting at $69.99
Shortened Battery Life is Why Apple Admits to Slowing Down Older iPhones
The Problem:
iPhone Battery Won't Hold a Charge
You read that correctly. Your iPhone is dying quickly because the battery can't handle running the updated software, so Apple slowed down your phone to preserve the battery life. So it's not as horrible a thing for them to admit as everyone originally thought.
But slowing down the iPhone processing doesn't save enough energy to make up for the power expenditure from just running the updated iOS versions. And it's not just shortening the amount of time your phone needs before the next charge; it's shortening the battery's overall lifespan. Apple estimates, over the course of 500 charges, your phone's battery loses as much as 20% of its energy capacity.
Every time Apple comes out with a new iPhone with newer and more capable hardware, which is upsettingly often, they also release a new version of iOS. They even come out with new versions of iOS multiple times between new iPhone releases, making your phone even slower and shortening your battery's lifespan more and more each and every time.
Cellular Providers Take Away New Phone/Contract Discounts
Cellular phone service providers don't give discounts for new phones when you sign your x-year-long contract anymore, either. It's not reasonable to spend $1,000 every time Apple comes out with a new phone just so you can keep your phone on all day without having to charge it. Only a small minority of the country can comfortably afford to keep pace with the iPhone releases.
The Solution:
Save $900+ with iPhone Battery Replacements
Smart Tech iPhone Repair's battery replacement service saves you $900+ on having to buy a new iPhone just to keep the thing charged for a full day of moderate use. Battery replacements start at just $69.99. If your phone model is older than the iPhone 8/Plus, you've probably already charged it close to or over 500 times and lost 20% of your battery's life per charge. It's time to restore your iPhone to the battery life it used to have.
SmartTech drives to you, wherever you are, whenever you need us, for your mobile iPhone repairs. Schedule an appointment to have your battery replaced while you're at work, your kid's game, out to dinner and a movie, getting your oil changed or anywhere else.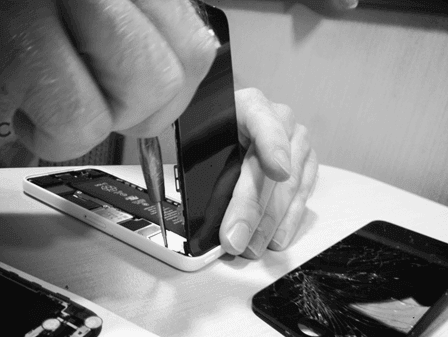 There is finally a company providing Milwaukee iPhone repair, so you can unplug your phone from the wall, and go about using it as it was made to be used.
On-The-Go
Rechargeable batteries are like anything else you have to refuel. They gradually lose effectiveness.
With modern times being the way they are, most of us spend a good chunk of our lives dependent on our phones. Let's think about it. We no longer have to remember phone numbers or dates or times because we have our iPhones or other smartphones. Unless we're uncannily prepared for a situation where we might not have our smartphones, we take them for granted.
Call SmartTech right before you go out, and have us meet you somewhere to replace your battery. As long as you'll be in one spot for at least 15 minutes, we can meet you there and replace the battery in your iPhone.
Buying/Selling Pre-Owned iPhones
At SmartTech, you can sell us a pre-owned iPhone if you don't want the ease of us coming to wherever you want to repair the device. You can also buy a pre-owned iPhone from SmartTech. Or trade your smartphone to us. It's your choice! No one will know your iPhone is pre-owned. When we repair smartphones, we make sure they look and work as if they came straight from the factory. Our parts are quality. The work is quality. And we offer a money-back, 100% satisfaction guarantee. No one offers such a great guarantee if they can't back it with the work they do. We can. Choose Smart Tech.